User Interface (UI) and Workflow
Everything today is about workflow and getting the most out of your tools. finalRender R3 used all the suggestions for optimization that came from actual users, which will help to shape the next generation of this rendering application.
New Tab-based UI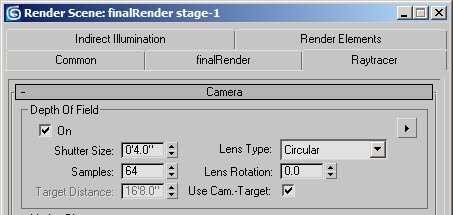 The user interface in the finalRender R3 rendering dialogue has been completely revamped. Previously, finalRender resided on one tab with many rollouts on a single tab. The UI has been redesigned to allow for a smoother navigation experience. Now, numerous tabs are broken down into items such as ray trace, indirect illumination, and finalRender. Now navigation is even easier and more familiar.
UI enhancements
You can now define the amount and type of rollout menu that should be visible in the renderer dialog.
finalRender R3 also comes with many smaller work-flow enhancements. One example of work-flow enhancement is found in the new Options section of the finalRender Globals rollout menu.