Physical Sky - The Dawn of a New Era
...an appointment with the sun is waiting for you!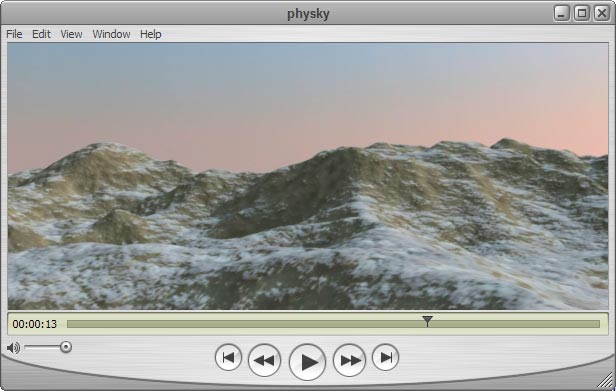 The physically accurate skylight model in finalRender R3 has been completely fine tuned and overhauled; it is now the new power tool for illuminating scenes in a photo-realistic way that until now has not been possible. By utilizing real world measurements and formulas to describe the illumination properties of skylight and its coloring, based on the time and the region of the world, a light setup can now be created that nearly matches the "real thing" outside of your office! Thanks to the new CIE sky color models, it is now even easier than ever to match a skylight situation with a real world situation.
finalRender R3 offers a physical sky simulation method that accurately represents the colors and illumination model of a real world sky environment. The light intensities created by the physical sky model are calculated in a true High Dynamic Range format. Color and light intensities are calculated as they would appear in reality, at a certain place and time on earth.
How does it work?
LAs in the real world, finalRender R3 takes into consideration many aspects that form the illumination and color of a sky hemisphere. Aspects, like the time of the day, the year and month along with the exact place on earth, will be considered when rendering the skylight effect. Furthermore, parameters like dust particles, ozone gas, and water vapor, play an important role in coloring the sky hemisphere as well.
Click on the image to see a larger rendering: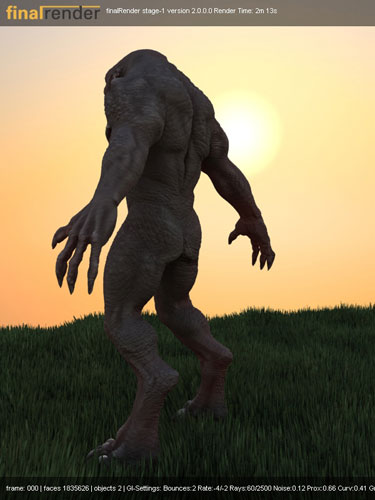 The color of a light source is defined by a collection of wavelengths. Each of those wavelength configurations indicates a particular absorption curve that is unique to each element in the atmosphere. Vaporized water in the atmosphere, for example, shows a strong absorption, between a wavelength of 690nm-730nm.
Nano what?
The physical sky model uses a true wavelength based rendering scheme. The international standard for measuring wavelength is in nano-meters (a billionth of a meter) or in other words a very (very-very) small distance. In the real world, all the beautiful colors that we see are made from a combination of different wavelengths, radiating all around us. A Red color shows a wavelength ranging from 633-690nm, Green shows a wavelength of 500-555nm and a Blue color between 440-500nm. As usual, you don't need to focus on all the physical sky aspects or parameters; you may experiment with the controls to obtain instant feedback on the look of the sky.